About
Our history
We create 'memorable taste sensations'. It all began in the early 90's when George Magganas, a chocolate obsessed Food Technologist, together with his wife May, founded Nina's Chocolates in Kirrawee, in Sydney's Sutherland Shire. The business grew rapidly and was moved to larger premises in neighbouring suburb Gymea's retail village.

Long live the Rocky Road!
George dared to be different. For George, Nina's Chocolates was about creating an inclusive world where humble favourites could live alongside artisanal gourmet delights. It was this vision that led him to push the chocolate making boundaries of the time and be known for crafting true taste sensations.

Chocolate brings us closer together
The word spread and Nina's Chocolates quickly became the go-to for amazing luxury hand-made chocolates. A delightful treat for special occasions and celebrations.

Award-winning
Today, with over 100 prestigious awards won, and over 120 handcrafted varieties on offer, Nina's Chocolates continues our promise to deliver the finest, most delectable, taste sensations for all of life's celebrations.

Did you know? The name Nina's is a phonetic combination of George & May's two daughters: Nicole and Natalie.

Our chocolatiers
A Nina's Chocolatier knows no compromise. Fueled by their passion, dedication and a fun-loving Australian spirit. Our team of talented Chocolatiers comes to us from near and far. Trained under George's watchful eye, our Chocolatiers are known for their culinary excellence, natural talent for the artisanal hand made craft, and their unique ability to capture the essence of what makes a Nina's chocolate a truly memorable taste sensation.

Ingredients
Only the finest ingredients At Nina's, ingredient quality is paramount. To achieve the right level of intensity and balance of flavour we use only the finest Belgian Couverture Chocolate.

For our fillings, we use fresh local ingredients complimented with the finest flavours sourced worldwide. This ensures all our exacting standards, product consistency and quality standards are adhered to.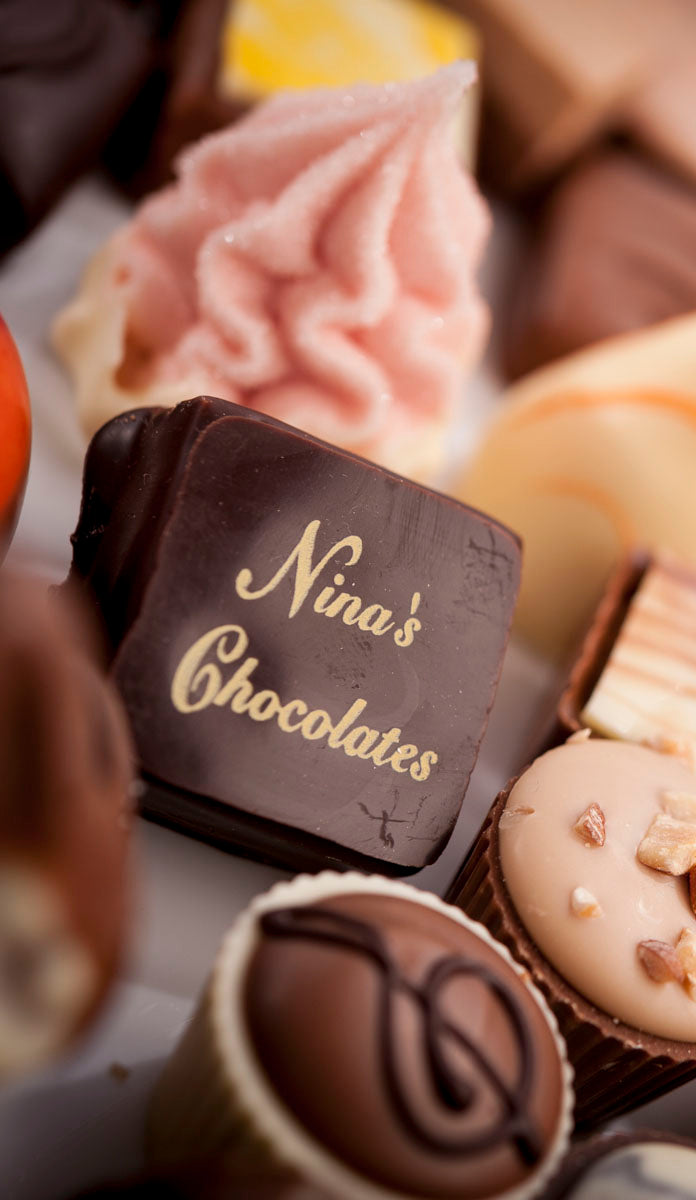 Sweet Success
Winner in Sutherland Shire Local Business Awards 2018 & 2019
Winner in Sutherland Shire Business Awards 2015
Winner of Sutherland Shire Business Person of the Year 2012
Finalist in Sutherland Shire Local Business Awards 2007, 2008, 2009, 2010, 2011, 2012 & 2013
Winner Sutherland Shire Small Business for General Retail 2001, 2002, 2003, 2004, 2005 & 2006
Winner of "Most Outstanding Small Business" Award 2002
"Most Successful Chocolate Exhibitor 2004, 2005, 2006, 2007, 2008, 2009" Sydney Royal Easter Show
"Most Successful Chocolate Exhibitor 2008" - Sydney Royal Easter Show
14 Medals in 2009 Sydney Royal Easter Show (3 Gold, 11 Silver)
37 Medals in 2008 Sydney Royal Easter Show (6 Gold, 31 Silver)
29 Medals in 2007 Sydney Royal Easter Show (5 Gold, 24 Silver)
12 Medals in 2007 Dairy Industry Association of Australia (5 Gold, 7 Silver)
33 Medals in 2006 Sydney Royal Easter Show (8 Gold, 13 Silver, 12 Bronze)
8 Medals in 2006 Melbourne Royal Dairy Produce Show (2 Gold, 6 Silver)
"Overall Champion Chocolate" in 2006 Royal Adelaide Show
23 Medals in 2006 Royal Adelaide Show (14 Gold, 9 Silver)
15 Medals in 2006 Australian Dairy Products Competition (11 Gold,4 Silver)
"Best General Retail Business" Gymea Chamber of Commerce 2006
"The Most Outstanding Overall Business" Gymea Chamber of Commerce 2006
28 Medals in 2005 Sydney Royal Easter Show (3 Gold, 10 Silver, 15 Bronze)
23 Medals in 2005 Melbourne Royal Dairy Produce Show (5 Gold, 18 Silver)
"Most Successful Chocolate Exhibitor 2004 & 2005" Melbourne Royal Dairy Produce Show
23 Medals in 2004 Sydney Royal Easter Show (4 Gold, 9 Silver, 10 Bronze)
28 Medals in 2004 Melbourne Royal Dairy Produce Show (8 Gold, 20 Silver)
12 Medals in 2003 Sydney Royal Easter Show (1 Gold, 5 Silver, 6 Bronze)
NSW Champion of Champions in Manufacturing 2003, 2004